A little fantasy football amongst friends...Meet the new cast for the FFL Tonight (also guest columnists for the FFL Today.) Click on the picture above to link to the cast bios.
Boston Thunder win 2001 FFL title

PLAYER OF THE WEEK
The Fantasy Bowl MVP, Jeff Garcia returned a memorable performance in Fantasy Bowl X: 24 points off of 4 TDPs, two of them from over 50 yards. The Boston Thunder went on to claim their second FFL title, 40-33.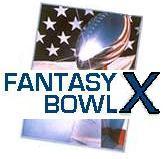 FANTASY BOWL X

January 6, 2002
Charleston, SC

THUNDER 40, BLAZERS 33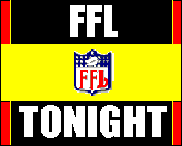 2001 Season in Review

2001: An FFL Odyssey


BOB DAYTON'S 2001 FFL POWER RANKINGS

1) Boston Thunder (10-4, 2-0)
2) Montana Blazers (11-3, 1-1)
3) New York Z-Force (9-5, 1-1)
4) Miami Miracles (7-7, 0-1)
5) Kansas City Blockers (8-5-1, 1-1)
6) Charleston Challengers (7-7, 0-1)
T7)Atlanta Predators (6-8)
T7)Middletown Syndromes (5-8-1)
9) Waikiki Tsunamis (6-7-1)
10)Chicago Black Sox (4-9-1)
11)Colorado Crips (5-9)
12)Phoenix Conquistadors (4-10)

FANTASY BOWL X

Jeff Garcia GOT IT DONE.

The Boston Thunder had made six consecutive playoff appearances, and six times they had tasted the sour of defeat. From 1995 on they had rosters filled with notable players having their best years: Jerome Bettis, Karim Abdul-Jabbar, Terry Allen, Eric Moulds. And Brett Favre. Yet year in and year out Favre could never fully carry his team, never win the big game, never fully escape the distinction of being the best FFL player to never win a championship. With the change of starting quarterbacks to Jeff Garcia in 2000, the Thunder's playoff anxieties lessened. After having lost five consecutive games with Favre, Garcia broke the curse with the team's first playoff win since 1993. And this year, he improved his playoff record to 3-1, cementing a legacy with Boston as the most successful field general in the franchise's history. With 24 points, tying a Fantasy Bowl record, Garcia appropriately gained MVP honors, a championship ring, and a memorable 40-33 win over the Montana Blazers. HE GOT IT DONE. For Boston, eight years was a long time to wait for an FFL title. But for the Blazers, the wait will at least be eleven.

In a Fantasy Bowl matchup as hyped and hotly anticipated as THE GAME V, there were few disappointments. After consecutive Fantasy Bowl blowouts by the Predators and Z-Force, the competitiveness of this game was quickly apparent. Jeff Garcia's 24 points were supplemented by Ahman Green's pair of TD runs. However, the much vaunted Thunder receiving tandem of Joe Horn and David Boston were shut down. The Montana secondary had another outstanding performance; for a second straight week they shut down the receivers of their opponents. On Montana's side of the ball, Marvin Harrison was the star, breaking his slump with 12 points on two TD grabs. However, the Blazers could never truly establish a running game against Boston, whose tough defense kept Eddie George and Priest Holmes out of the end zone. With their ground strategy halted, the pressure was placed on Montana's passing game and special teams. Blazers special teams coach AKoskelo deserves particular praise for his pregame motivation of kicker Mike Vanderjagt. After taking his fill of Koskelo's nutritious Finnish bakings, Vanderjagt went on to kick an FFL playoff record five field goals. Had Montana won, he likely would have been the game's MVP. As it was, the Blazers came up seven points short. However, with their first Fantasy Bowl birth in ten years, Montana has also done away with a certain number of their franchise's ghosts. Whether or not it will lead to continued success will be seen in 2002.

BOB DAYTON's PICKS FOR SEASON AWARDS

MVP: Jeff Garcia

Garcia was the true heart behind the champion Boston Thunder. He led the league in scoring (with one of the ten best scoring totals in FFL history), he was outstanding in the playoffs, and he was one of the FFL's most consistent performers throughout the year. Compared to past years, I think Garcia is a very clear favorite to win the award.

Rookie of the Year: Aaron Brooks

Another QB who made a definite impact, Brooks played his first full year in the FFL and (sometimes single-handedly) led the Blockers into the playoffs. He showed talent, consistency, and his play improved down the stretch of the season. Other quality candidates: LTomlinson (Mia), James Thrash (KC). Other players who qualify for the award: David Akers (Mid), Anthony Thomas (Pho), Kevan Barlow (Pho), Byron Chamberlain (Pho), Maurice Smith (Col), Thomas Jones (Pho).

Coach of the Year: NSurowiecki & ShWyman

I've had thoughts of awarding this to the championship team's coach, or to JLeinwand for his continued success with Kansas City, but the award has to go to Montana. Their perseverance paid off with the team's first Fantasy Bowl, and they had a very good draft -- adding Priest Holmes and Rod Smith to form a quality core of talent. Their victory over the Z-Force also quashed criticisms that the team could not hold their own with talented teams in a big game atmosphere.

AND NEXT YEAR?

The FFL's change to an online draft -- how it will affect the future of the league? Will the art of drafting a team be radically transformed? Can the Syndromes, Black Sox and Crips, once quality contenders, rise from the muck of mediocrity? What will happen with the Conquistadors, who enter 2002 armed with a bevy of draft picks? Will the Blockers overachieve for a third straight season? Will the Predators finally break out of their underachieving streak? Will the Tsunamis and Challengers, teams on the fringe of the success, finally break out? Can the Miracles rebound from an embarrasing second half of 2001? Can the Z-Force come back from a tough playoff loss? Can the Thunder become the first FFL team to repeat? Will we ever see the Blazers in the Fantasy Bowl again? The FFL Tonight will be following these stories and more. See you in 2002.

Personal Fowl
with Manford Fowler
Greetings once again from my basement office here at the FFL Headquarters in Middletown, Connecticut. Sorry for taking so long to update the page this week, but after the Fantasy Bowl we partied hearty in Charleston, SC with the victorious Boston Thunder before their planned parade route down Boston today. After a red-eye flight early this morning, I am barely able to write this column today, but I will try to do my best for the millions and millions of FFL fans who hang on my words each and every week.

Yesterday we witnessed the closest Fantasy Bowl in recent years, as the Boston Thunder edged the Montana Blazers by seven points, 40-33. The game was a departure of sorts for both teams, as most of their usual key players did not get into the act. If someone told me before kickoff that the combined scoring of DRhodes, DBoston, JHorn, EGeorge, PHolmes, and RSmith would be zero (0) points, I would have been flabbergasted. But that turned out to be the case Sunday, as both defenses clamped down on position players in general. Only AGreen and MHarrison were able to hit paydirt twice, but those were the only scores among backs and receivers in the game. The game was decided on the play of the starting quarterbacks. BGriese, still slowed by the manhandling at the hands of the Z-Force, managed only one scoring strike. Conversely, Boston QB JGarcia passed for four touchdowns, tallying 24 points and tying two FFL Fantasy Bowl records. After not appearing on the midseason MVP ballot, Garcia has made voting for MVP this year merely a formality- in addition to scoring the most points during the regular season, Garcia scored 38 points in the two Thunder playoff games. This guy is good, and the Thunder have to be considered Fantasy Bowl contenders for years to come if he remains behind center. Montana kicker MVanderjagt made the game interesting, scoring what has to be a record for kickers in the Fantasy Bowl with five field goals and two extra points. It seems as though he was energized by a special pre-game meal made by Special Teams coach AKoskelo called "pippar kakku." The 17 total points were especially significant considering the foot infection suffered by Boston K SJanikowski and the four kicking points scored by replacement KBrown. Boston also dodged a bullet at Tight End, as both WWalls and CLewis did not play due to injury. However, MPollard could not get on the board, and the game was sealed. As the final seconds ticked off the clock and the players soaked owner EWisneski in Gatorade, a tear ran down my check as I reflected on what a beautiful game this is. And also because Miami did not win, once again.

Now that there are no more games to cover, I am going to announce my own personal end-of-the-year awards. I have decided to name them "The Jackies" after sideline reporter Jackie Zieger, who went from eating crusty old dip at football drafts to the national spotlight in one short year. Congrats, Jackie. The awards:

Biggest Letdown- Team and/or Player: PHOENIX CONQUISTADORS

This one should come as no surprise to most FFL fans. Phoenix came in with three players in the overall top ten. They finished with four victories, 10 losses, two injured stars, and one traded star. In the process, they killed any sort of chance the 2 keeper rule had of passing by showing just how far a team could tumble in a matter of one short year. Before the fans in Phoenix start burning me in effigy, allow me to point out that this award goes to the biggest letdown for this year, as I am not counting draft picks in next year's draft towards this determination. For all we know, one year from today I will be writing about how the Conquistadors dominated the league in 2002. But with the type of season they had in 2001 and the lack of any draft picks in 2003, anything short of winning it all next year would have to qualify as a disappointment.

Runners-up: DAlexander, Neil Peterson

Best Free Agent Signing: DRHODES, BOSTON

As I pointed out in last week's columns, winning it all takes more than luck. Seeing his team get off to a slow start, Boston owner Wisneski signed Rhodes as insurance against SDavis' slow start and a season ending injury to starting receiver GCrowell. Signing the undrafted rookie runner paid off for the Thunder, as he became a key player in the last several weeks of the season. Having him to sub in for other players contributed to the Thunder's record fifth divisional title and championship in Fantasy Bowl X.

Runners-up: AThomas, Phoenix; SMack, Atlanta

Steal of the Draft: SALEXANDER, MIAMI

It burns my soul to give an award to Miami. It really does. Still, I have to acknowledge that Alexander was the best pick of the draft. Over the last 14 weeks of the season, the Miami runner came out of nowhere to pile up 16 touchdowns despite the perpetually horrendous Miami O-line. I would say that he has a bright future ahead of him in Miami, except for the fact that Miami will never win as long as JeZieger remains at the helm.

Runners-up: BFavre, Mia; PHolmes, Mon

Comeback Player of the Year: BFAVRE, MIAMI

Again, it hurts me to give another award to Miami and their new starting quarterback, Favre. However, I think that the two are a good fit for each other. Sure, Favre has scored a lot of points in the FFL- the most ever, to be exact. But ask him how many times he has won the Fantasy Bowl, or even how many playoff games he has won. Sure, Favre has been to the playoffs for seven consecutive years, six with the Thunder and this year with Miami. However, Boston was bounced from the playoffs each of those years, and they won it in the first year of Garcia's reign. Coincidence? Meanwhile, Miami barely sneaks into the playoffs as a wild card despite scoring a lot of points, then loses in the first round. Another coincidence? Favre should stop keeping an eye on the record books and start trying to win games. Still, his return to a starter's role and midseason talk of an MVP award gets him the Comeback Player of the Year award.

Runners-up: TiBrown, KC; GHearst, Col

Coach Most Likely to get Fired: FDEBOER, ATLANTA

This award could go to a number of coaches, but I feel as though FdeBoer is the coach most likely to be fired now that the season is over. Sure, his record was not as bad as some other teams. But Phoenix suffered due to injuries and trades, Chicago was starting a rebuilding process, and the talent levels of both Middletown and Colorado were far from spectacular. However, deBoer appeared completely unable to maintain control of his team as it spiraled out of control. His Welburn-esque approach to coaching did not make team management happy. Additionally, the team's fall is especially problematic since the team was seen as one of the "Big Three" headed into the season, and it traded away it's first round draft pick next year for runner RWilliams to push it over the hill this year. But alas, the team failed to make the playoffs, and Atlanta fans want blood. Look for deBoer to get the ax soon, with Steve Spurrier the leading candidate to take over next season.

Runners-up: TFleming, BFleming

Pundit of the Year: MANFORD FOWLER

Yeah, that's right. I am the best. Seeing that the FFL Tonight needed a good shot in the arm, Commish JaZieger hired me to write a column of who is who and what is what in the FFL, no prisoners taken and no punches pulled. Sure, Bob Dayton knows his statistics, Coach K knows the draft, Ricardo Dayton knows shame, Jessie Hester knows playbooks and Jackie Zieger knows fashion. But I know what is going on in the FFL- I have my finger to the pulse, my ear to the tracks and my old Miracles uniform in a septic tank somewhere. I have been known to anger fans and coaches alike with my "tell-it-like-it-is" approach, but love me or hate me, you have to respect my opinions published right here on the FFL webpage.

Runners-up: Bob Dayton, Jessie Hester

Now that the season is over, my columns will be slowing down. I will not be posting every week, but I will add something whenever it strikes my fancy and/or whenever Miami does something stupid. If anyone wants to get in touch with me, post a message in the guestbook and I might respond if it deserves my attention. I would like to thank both Bob Dayton and JaZieger for my job here at FFL Online, and to my legions of fans that have made me the most popular pundit since Neil Peterson. Thank you, and I'll Fowl you all next year.


2001 All-Pros Named
The FFL has announced members of its 2001 All-Pro Team, a team composed of the most statistically productive players at their respective positions. Jeff Garcia, a possible 2001 MVP candidate, was named starting QB, while Marshall Faulk, Curtis Martin, Terrell Owens and Marvin Harrison were also named to the starting lineup. Marcus Pollard is the starter at tight end, while Jason Elam and San Diego round out the special teams and defense. The All-Pro Team may give early indication as to which players may be named MVP, with Jeff Garcia, Marvin Harrison, and Marshall Faulk being early favorites.


2001 FFL All-Pro Team

QB: Jeff Garcia (Bos), Peyton Manning (NY)
RB: Marshall Faulk (NY), Curtis Martin (Mia), Corey Dillon (Mia), LaDainian Tomlinson (Mia)
WR: Terrell Owens (NY), Marvin Harrison (Mon), Randy Moss (Mid), Rod Smith (Mon)
TE: Marcus Pollard (Mon), Wesley Walls (Chi-Bos)
K: Jason Elam (Chi), Jeff Wilkins (NY)
STD: San Diego (Col), Philadelphia (Atl)
Fantasy Bowl Pre-Game Coverage: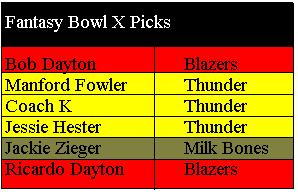 Fantasy Bowl Sites:

I: Billings, MN
II: Miami, FL
III: Foxboro, MA
IV: Middletown, CT
V: Phoenix, AZ
VI: Atlanta, GA
VII: Chicago, IL
VIII: New York, NY
IX: Denver, CO
X: Charleston, SC

Fantasy Bowl MVPs:

I: Emmitt Smith, Z-Force
II: Shannon Sharpe, Thunder
III: Sterling Sharpe, Z-Force
IV: Carl Pickens, Rockies
V: Barry Sanders, Black Sox
VI: Marshall Faulk, Z-Force
VII: O.J. Santiago, Conquistadors
VIII: Fred Taylor, Predators
IX: Peyton Manning, Z-Force
X: Jeff Garcia, Thunder

Fantasy Bowl X Pre-game Press Conference

I had a chance to sit down with Thunder head coach EWisneski and Blazers assistant coach ShWyman today. Here are excerpts from the noon press conference:


*RD: It has been a long time since either of your teams has been able to break the curse of playoff losses. How does it feel, as a coach, to be so close now to the pinnacle of FFL greatness?

SW: Honestly, since I came to Montana two seasons ago as
an Assistant, we've only had one playoff loss, so I
don't see that as a curse, but more of a spell that we
have succesffully broken.

EW: I feel very relieved to finally make it to the Fantasy Bowl after years falling apart in the playoffs. Other than the champion 1993 team, my 6 last trips into the playoffs have gone in like a lion and out like a lamb. But I feel confident that this is the year that Boston finally brings home another title for their rabid fans- since I moved here to keep a closer eye on things a few months ago, I realize now that the fans in Boston deserve another title. I think getting rid of annual playoff loser Brett Favre was the way to take it to the next level, and here we are.


*RD: How well do you think your team fared in the 2001 draft?

EW: I feel as though we had one of the better drafts this year- maybe one of my best ever. Going in with stars at quarterback and running back, I wanted some star power at receiver, and I got that in Joe Horn and David Boston. Chad Lewis has been a decent tight end for me, and Charlie Garner has been a valuable backup.

SW: Well, one of my duties as an assistant is to really
scour the draft board and this is probably where my
boss Nick would say I make my money. If you look at
where I made the smart moves, you think to yourself,
how could no one else see that? Priest Holmes did well
in Baltimore and left to go to a more offensive
team...why did no one think he would be better? Also,
Rod Smith wasn't kept on a team for what reason???
He's only one of the best receivers in the game today.
Marcus Pollard...only the recieving TE on one of the
more potent offenses in the NFL. Makes sense, don't
it?


*RD: Who do you think of as your team's most valuable player?

SW: This would probably be the toughest question at this
press conference. You can make a case for Brian
Griese, Marvin Harrison, Rod Smith, Marcus Pollard,
but I think I would have to give the award to Priest
Holmes, because our main man Eddie George battled
injuries, and an endzone deficiency syndrome and
that's where Priest picked it up. Once he started
getting playing time he proved that he is a premier
back in FFL.

EW: This is a difficult question to answer, since so many of my players have stepped up their production, especially in the second half of the season when I won seven games in a row. I would have to give it to Jeff Garcia, however. His offensive numbers are unmatched in the FFL, and his strong leadership in the huddle has also been valuable this year. Combine that with his taking over for former fan favorite Brett Favre, and it is clear he is not just my MVP, but the league MVP as well.


*RD: What do you see as the greatest strength of your opponent's team?

EW: I think Montana has an explosive offense that will test my defense this week. Other than that, their resiliency. Griese had a concussion, Smith is hurting, and George has not been 100% all season. They have been bashed in the press, by Bob Dayton, by Manford Fowler, and by HdeBoer. Still, they have managed several big wins, including one over my team already this year. But I think I have their number this week.

SW: There are two strengths that concern me about the
Thunder. 1) Ahman Green and Dominic Rhodes have the
ability to get in the endzone 2-3 times in one game.
2) Once you think you have all the receivers covered,
Jeff Garcia can go ahead and beat you with his legs
and run in for a 6-ptr.


*RD: What is it about your team that gives it the rightful claim as the best team in the league?

SW: The reason we have proven we are the best team in the
league is because of our potency to put up big numbers
in big games. The toughest games, no one gives us
credit, we come in and prove them all wrong.

EW: My depth. Sure, none of my position players cracked 10 touchdowns this year. But I am lucky enough to have a choice of people to start on a week to week basis. I am more comfortable with 4 guys who score consistently rather than one guy who scores a lot in bunches and some flops. Rhodes has looked good recently, so he can sub in for Davis, who was hurt last week. Before he went down, Germaine Crowell looked like he could have a big year, but Boston and Horn have stepped up since then to fill the void. Charlie Garner, David Patten, and Wesley Walls also provide me with some depth. And I think that both Tom Brady and Drew Bledsoe have good futures ahead of them in this league.


*RD: If you should win, where does your team intend to go to celebrate?

EW: I have already planned a ticker tape parade down the streets of Boston. It will start at my apartment, go down Commonwealth Avenue past BU and Fenway, wrap around Quincy Market, and end up in the large mall area in front of City Hall, where my team will present the city of Boston with the FFL Trophy, for display until another team pries it out of our cold, dead fingers. Then we will go to any of the bars in that area with the FFL trophy, fill it with the cheapest Polish vodka we can find, and watch Sebastian Janikowski try to drink the entire thing.

SW: We'll probably first go to Bif's Eats and Beer in
downtown Helena (Popular player hangout) for a couple
and then P. Diddy is planning to fly us on his private
jet to NY to party with the hip-hop fellas.


*RD: Your pick: Melissa Stark or Jackie Zieger?

SW: Stark---easily.

EW: No offense to Melissa Stark, but Jackie Zieger is the talk of the town in Boston. Everyone has been hoping she comes here for our victory celebration next week. Especially Kris Brown. I think he may like her too much. He had better watch out and make sure he doesn't pull a Neil Peterson. I always thought that guy was a pervert.


*RD: Might we expect a new Blazers/Thunder rivalry to emerge from this game?

EW: I don't really think so. You see their record against my team? Maybe if they beat me this weekend and for the next 7 years, then it will be interesting. No, I think we would all be disappointed if we lost this game on Sunday. If we lose, then there will be a rivalry there. But we won't.

SW: Anytime you get a Fantasy Bowl matchup, the loser
always seeks revenge and the winner always likes to
double the punishment the next time they face each
other. I think this will be a close game, therefore, a
lot of heated tempers...and most likely, a new rivalry
will be the outcome.




Bob Dayton's
FANTASY BOWL X PREVIEW

Blazers (11-3) vs. Thunder (10-4)

Projected Starting Lineups:

Boston
QB- Jeff Garcia (28 TDP, 5 TD runs)
RB- Ahman Green (9 TD)
RB- Dominic Rhodes (9 TD)
WR- Joe Horn (9 TD)
WR- David Boston (8 TD)
TE- Chad Lewis (6 TD)
K- Kris Brown
STD Oakland

Montana

QB- Brian Griese (22 TDP, TD run)
RB- Priest Holmes (10 TD)
RB- Eddie George (5 TD)
WR- Rod Smith (11 TD)
WR- Marvin Harrison (13 TD)
TE- Marcus Pollard (8 TD)
K- Mike Vanderjagt (78.6 FG%)
STD Tampa Bay
THE STORIES OF THE YEAR:

The Thunder failed time and time again to make the Fantasy Bowl, making Brett Favre in the process the greatest FFL quarterback to never win a championship. But now under Jeff Garcia and with a lineup of many weapons, the Thunder return to the big show for the first time since 1993. This would be the best story of the year, if not for the Blazers, who had the embarrassing distinction of being the only original FFL team to never make the Fantasy Bowl -- until now. They too have always had trouble capitalizing in the playoffs, but now they have made it to the championship. A team of explosive offensive potential, they have won the big games when they've needed to this year --- including against the Thunder, whom they beat Week 2 (50-25).

THE RIVALRY:

Actually, the Thunder and Blazers have historically had one of the most lopsided matchups in the FFL. The series is 11-3-1 in favor of the Thunder. Boston played Montana in last year's wild card round, winning 59-46. It is their only previous playoff meeting.

THE DISAPPOINTMENTS:

Thunder: 4-6 career in playoffs
Blazers: 2-6 career in playoffs

Boston and Montana have had (with the possible exception of Miami) the greatest playoff disappointments of any FFL franchises. But one team WILL take home the title.

THE COACHES:

EWisneski 85-66-3 (.562)
NSurowiecki 74-75-3 (.497)

A win will bring Surowiecki up to a .500 career record for the first time since 1993.

THE PREDICTION:

The Blazers have clawed and fought their way to earn respect in the FFL this year. Their huge victory over the Z-Force proves that they can beat the teams to beat as well. Overall, the Thunder are the superior team, by talent. But I have to put the intangibles in the Blazers' favor. They have waited 10 long years for a chance at the title, and they won't go quietly.

For the Thunder: I see a big game for Jeff Garcia, but I think they will get less support from their receiving cast then usual, as they are matched against a Montana secondary that shut down New York this week. Joe Horn and David Boston have been big contributors down the stretch, but how often have they been able to score on the same week? What Ahman Green gets done on the ground may make the difference.

For the Blazers: If Brian Griese and Rod Smith can connect for the 10 point play, as they have often this season, they will stay in the game. They can't always win off of the efforts of Priest Holmes and Eddie George (who have both scored their TDs in bunches). Instead, I think that for them to win, they have to get their receiving corps in the end zone. Harrison, Smith and Pollard all sagged somewhat in the second half, so they have to step up their game.

Neither team has fared very well in past playoff years, so it will be interesting to see which team expresses the most heart en route to victory. But all things considered, I see a Montana victory, 36-28. Keep your fingers crossed, Montana fans. Its time to prove your critics wrong once and for all.

PERSONAL FOWL

with FFL analyst Manford Fowler

Hello out there across America from the FFL Headquarters at Olympus Parkway in Middletown, CT. What a wild week we had here- and not because of the exciting games this weekend, but because of the office holiday party former Chicago Assistant Coach MZieger threw for the entire FFL staff. I am not sure what she put into that egg nog, but I saw some wild sights I never thought I would see. For instance, I can tell you right now that Bob Dayton does not have gray hair all over his body, in case anyone is interested in that sort of knowledge. I know I wasn't, but that didn't stop him from mooning us. In a sad bit of news, Neil Peterson was fired after he groped sideline reporter Jackie Zieger when she passed out after having a bowl full of funky cold medina. And that Ricardo Dayton is something else, let me tell you. With two lovely ladies by his side the whole night, I can see that we will probably have another generation of illegitimate reporters from the Dayton family here at FFL Online. Jessie Hester had to be sent home after he got drunk on Mimi's egg nog and kept bragging about his one FFL start in 1992. But the night belonged to Niofred Koskelo, who impressed all with his massive pippar-kakku house. What an exciting and memorable night.

Before I get into my usual game summaries and preview Fantasy Bowl X, I figured I would sound off on the Keeper Rule Change debate that has been brewing of late. If I start to offend anyone or sound like Boston management describing Major League Baseball, I apologize in advance. However, if I had to describe the rule in a word, the word would be "terrible." There is no reason for this change that I can see. Although this is my first year on the FFL Beat here at FFL Online, I have been filled in on the history of this league, and I believe that history shows that there is no need for a change. To back up this claim with statistical evidence, I have noticed a couple trends that show that maintaining a good team from year to year is not as easy as some league pundits and observers believe it to be. As the first test, I recorded the number of transactions all the FFL teams have made since the start of play this season. The two teams with the most transactions? Boston and New York. Over the course of FFL history, these teams have combined for 17 playoff appearances out of a possible 20. Rather than argue that those two teams have an unfair edge in their three keepers, I suggest that alert coaching might have something to do with a team's success from year to year. Continuing their strong tradition, the teams combined for a 19-9 regular season record this year and Boston will play in this weekend's Fantasy Bowl X. I think this would be a good point to examine Boston's keeper history in recent years. The player with the longest tenure on the team, SDavis, has scored 5 touchdowns this year. The other two keepers heading into this year were drafted as a backup last year (JGarcia) and signed late in the season as a backup (AGreen). Is that what one could call an unfair dynasty? For the unfair dynasty theory to be true, one would expect that Boston would have a lineup featuring BFavre, BMorris, KAbdul-Jabar, WFloyd, BSanders, and FFL contributor Jessie Hester. However, that is not the case. Boston has shuffled players in and out as their play declined and backups like Green, Garcia or DRhodes became better players and took over. New York has held on to some players for some time, true. But they have also given up key players at the end of year to save those players, as AFreeman, TOwens, LSmith, RSmith, ESmith, RBrooks, and StSharpe were cut or lost to injury after productive seasons. To replace them, management re-drafted and signed more impact players. This is not rocket science, folks.

Back to statistical analysis. Teams that made 10 or fewer transactions finished with an overall record of 63-73-4. To get a greater sense of what was at play here, I also examined the number of lineup submissions that all FFL teams registered this year. I will give you one guess who submitted the most lineups. What? Who is LWelburn? Gary Buckman? No, the correct answer is, once again, Boston and New York. Both teams juggled players in and out of their lineups to get the best matchups and stick with the hottest players. Right behind them were Montana, Miami, and Kansas City. Do those teams sound familiar to you? In case you need a hint, think back to the final Power Rankings of this year and recall the top five teams. That is right- they are one and the same. Try this on for size: teams that made 11 or more lineup submissions combined for a record of 46-24-1, and they all made the playoffs. Teams that made 10 or fewer lineup submissions finished 39-58-3, with only one team of the bunch making the playoffs. Coincidence? I think not. Since I was not an FFL reporter in past years, I do not know if those two trends would be the same. However, anyone who wants to can take a look at last year's records to see if the same trends held true then. I am not a betting man, but I would wager a week's paycheck from FFL Online that last year and other years were the same.

As for the dynasty-by-three-keepers theory, voters should consider the buzz coming into this year's draft. I am told that various team owners complained that New York, Phoenix and Atlanta had a monopoly over marquee FFL players. Coming into the year one had to put at least a little stock in their arguments- New York had PManning, MFaulk and TOwens; Phoenix had EJames, JLewis and DCulpepper; and Atlanta had KWarner, FTaylor and IBruce. Not fair, right? Destined to win, right? Wrong. Phoenix traded away Culpepper and saw injuries take their other two stars. Atlanta never really got going despite some talent. If the pundits at the draft were to be believed, two of these teams would be playing for the title this year, instead of sitting at home drinking week old champagne during Fantasy Bowl X. And who is playing? One team, Montana, has not received much respect this year despite accumulating one of the better records of all time. They did this with keepers that could not compare with the "Big Three"- BGriese, EGeorge, and MHarrison. Harrison has had a good season, but how can you argue that three keepers are not fair when you see that their star performer going into the year has scored 5 times this season? The same can be said for Boston, where SDavis was the team's star player heading into the year, and yet he has scored less than George. JGarcia has been a fantasy stud this year, but AGreen has hardly set the world on fire. So how did these teams get here? Solid drafts, alert coaching and an eye on the waiver wire. Montana drafted RSmith and PHolmes, both of whom have helped steady the ship through various injuries. Boston drafted DBoston and JHorn, and picked up starter DRhodes more than a month into the season. Looking at teams that did not make the playoffs, it becomes clear that the number of keepers did not make as big a difference as overall coaching strategy. Waikiki took JJStokes third overall, Chicago took ESmith fourth overall, Middletown took MAnderson fifth overall, Atlanta took TBarber sixth overall, Colorado took TGreen eighth overall, and Phoenix took KBarlow tenth overall. Conversely, playoff bound teams had better first rounds. Compared to that group, these names sound even better than usual: LTomlinson, RSmith, and JHorn.

Do keepers make a difference? Absolutely. But it is not the only difference between teams, as fans in Atlanta and Phoenix can tell you. I will leave this argument with one final stat. It probably makes sense that the teams with the best keepers going in are playing this weekend, correct? Well, Phoenix had 3 players in the top ten, with an average ranking of 4.3 among them. New York also had three players in the top ten, with an average ranking of 5.6. Good thing those players must make a lot of money, as they will need it for a big screen television to watch Montana and Boston play for the crown this year. Those two teams did it with one player in the top ten between them, and with average player rankings of 13 and 15, respectively. Unfair? A monopoly? Conspiracy? I think not. But pundits do not vote- only owners do. I hope they make the right choice.

On to the CG summaries. What an exciting contest we saw in Montana- heading into this game fans expected an all out war, and the players did not disappoint. MFaulk continued to solidify his status as a fantasy god by scoring 24 points. PManning also ran in a touchdown for the Z-Force, and MAnderson collected seven points in his tenth year kicking in New York. But the receivers were shut down by a tough Montana secondary, as no receivers or tight ends got on the board. That proved to be the big difference in this contest. The Blazers got more consistent scoring from a variety of players who have jelled over the season to form a devastating lineup. BGriese came back from his concussion suffered against the Z-Force earlier in the season with a vengeance. EGeorge and RSmith also contributed, with George especially showing flashes of brilliance for the first time this season. But the game came down to a final play that will be remembered for years. Being tackled by a Montana defender, MFaulk tossed the ball to seldom used special teams player RDixon, who raced for the end zone. If Dixon had stepped out of bounds and let Anderson kick a field goal, New York could have gone to Fantasy Bowl X. But he was forced out within 5 yards of the end zone, which sealed Montana's win with a final score of 39-37. We have seen some great games this year, but this was the best. The other contest was not as thrilling, as Boston abused Kansas City to the tune of 61-25. JGarcia turned in another star performance and furthered his case for FFL MVP this year. AGreen and DRhodes had productive days, and DBoston scored a game-breaking 18 points. Even tight end CLewis got into the act scoring 12 points- the trade for veteran WWalls has scared Lewis into increased production as of late. The Blockers were not as fortunate and found themselves on the other end of this year's Boston-KC playoff game. JThrash came through with 12 points, but the rest of the unit was not as productive. JHall also came up big- he made a big difference on special teams for Kansas City this year. But it was not enough, which ended Kansas City's season and determined the matchup for Fantasy Bowl X- Montana vs. Boston.

Now the question becomes who will win Fantasy Bowl X- Montana or Boston? To determine that, lets look at the lineups side by side. I have to give Boston the edge at quarterback, since BGriese is coming back from a concussion and JGarcia might be MVP this year. Conversely, I give Montana the edge for the primary runner, PHolmes, over Boston's AGreen. I cannot extend the same honor to EGeorge, though. I think either SDavis or DRhodes, whoever starts, will prevail this Sunday. While I am becoming less and less popular with every word in Montana, I have to give both Thunder receivers the nod over both Blazer receivers. MHarrison has caught 1 touchdown since December 2. RSmith has been hobbled with two high ankle sprains for weeks, and he remains injured. Conversely, JHorn has 5 touchdowns in the past five weeks, and DBoston has 7 touchdowns in the past eight weeks, many from over 50 yards away. These guys are good. Keep in mind the strong connection between Griese and Smith, however- if these two hook up on a score or two, that could be enough for Montana. The edge for tight end goes to Montana, both from CLewis' groin strain heading into the weekend and MPollard's versatility. SJanikowski gets the nod over MVanderjagt, and the defenses are about even in my opinion. Having said all of this, who will win? This is a tough one. Boston seems to have more steady and consistent talent, while Montana is more capable of game-breaking play from its team. This one is too close to call, so I am just going to advise all FFL fans to take in this game on Sunday. I know I will be watching from my home with my son Brett, cheering for both outstanding teams and cursing the Miracles. It should be a good time.







2002 Draft preview

1) Phoenix Conquistadors
2) Chicago Black Sox
3) Middletown Downsyndromes
4) Colorado Crips
5) Atlanta Predators
6) Waikiki Tsunamis
7) Charleston Challengers
8) Miami Miracles
9) Kansas City Blockers
10) New York Z-Force
11) Montana Blazers
12) Boston Thunder

2002

Phoenix has Chicago's 1st, 9th
Phoenix has Waikiki's 1st
Phoenix has Atlanta's 1st
Chicago has Phoenix's 2nd, 3rd, 8th
Chicago has New York's 4th
Charleston has New York's 5th

2003
Waikiki owns the rights to Phoenix's entire 2003 draft




View My Guestbook
Sign My Guestbook

FFL TRIVIA

Fantasy Bowls:

I: Z-Force 32, Miracles 25
II: Thunder 43, Z-Force 28
III: Z-Force 30, Twins 28
IV: Rockies 17, Challengers 15
V: Black Sox 45, Challengers 16
VI: Z-Force 54, Conquistadors 33
VII: Conquistadors 40, Z-Force 36
VIII: Predators 56, Conquistadors 35
IX: Z-Force 70, Blockers 26
X: Thunder 40, Blazers 33

FFL Conference/Division Regular Season Winners

1995
EFC: Z-Force
WFC: Rockies

1996
EFC: Thunder
WFC: Black Sox

1997
EFC: Thunder
WFC: Black Sox

1998
EFC: Twins
WFC: Conquistadors

1999
EFC: Thunder
WFC: Conquistadors

2000
FFL East: Thunder
FFL South-Central: Blockers
FFL West: Conquistadors

2001
FFL East: Thunder
FFL South-Central: Blockers
FFL West: Blazers

FFL Top 50 All-Time Scorers
1) Brett Favre-916
2) Jason Elam-864
3) Steve Young-732
4) Emmitt Smith-716
5) Pete Stoyanovich-576
6) Jason Hanson-569
7) Jerry Rice-566
8) Morten Andersen-540
9) Steve Christie-529
10)Al Del Greco-514
11)Marshall Faulk-506
12)Dan Marino-478
13)John Elway-474
14)Cris Carter-466
15)Drew Bledsoe-438
16)Ricky Watters-398
17)Mike Hollis-397
18)Curtis Martin-390
19)Tim Brown--386
20)Olindo Mare-384
21)Barry Sanders-378
22)John Kasay-371
23)Terrell Davis-366
24)Peyton Manning-354
25)Kurt Warner-342
26)Randall Cunningham-340
26)Jeff George-340
28)Randy Moss-332
29)Jeff Wilkins-321
30)Isaac Bruce-310
31)Herman Moore-296
32)Jeff Blake-292
32)Chris Boniol-292
34)Andre Rison-288
35)Marvin Harrison-280
36)Carl Pickens-278
37)Antonio Freeman-274
37)Terrell Owens-274
39)Terry Allen-270
39)Warren Moon-270
41)Shannon Sharpe-268
42)Adam Vinatieri-262
43)Jerome Bettis-260
44)Troy Aikman-252
45)Jeff Jaeger-250
45)Brad Johnson-250
47)Steve McNair-244
48)Doug Brien-243
49)Eddie George-242
50)Daunte Culpepper-240

Awards:

FFL MVP Awards

1992: Emmitt Smith, NY. 16 TD, 102 pts, 7.29 ppg
1993: Steve Young, Col. 25 TDP, 128 pts, 9.85 ppg
1994: Steve Young, Col. 31 TDP, 182 pts, 13.00 ppg
1995: Emmitt Smith, NY. 22 TD, 138 pts, 10.62 ppg
1996: Brett Favre, Bos. 31 TDP, 152 pts, 11.69 ppg
1997: Brett Favre, Bos. 28 TDP, 120 pts, 9.23 ppg
1998: Steve Young, Mid. 31 TDP, 174 pts, 14.50 ppg
1999: Kurt Warner, Atl. 28 TDP, 126 pts, 11.45 ppg
2000: Daunte Culpepper, Pho. 25 TDP, 144 pts, 12.00 ppg
2001: Jeff Garcia, Bos. 25 TDP, 138 pts, 10.62 ppg

FFL Rookies of the Year
* Rookie defined as a player making first reg. season FFL appearance, 1992 counts only NFL rookies

1992: Jason Hanson, K, Mon.
1993: Shannon Sharpe, TE, Bos.
1994: Marshall Faulk, RB, NY.
1995: Curtis Martin, RB, NE.
1996: Karim Abdul-Jabbar, RB, Bos.
1997: Brad Johnson, QB, Cha.
1998: Randy Moss, WR, Mid.
1999: Kurt Warner, QB, Atl.
2000: Daunte Culpepper, QB, Pho.
2001: Aaron Brooks, QB, KC.

FFL Coach of the Year

1992: JaZieger, NY (11-4)
1993: TFleming, Col (11-5)
1994: JaZieger, NY (12-3)
1995: JaZieger, NY (11-3)
1996: EWisneski, Bos (10-4)
1997: AFleming, Pho (8-6)
1998: BFleming, Mid (9-3-2)
1999: EWisneski, Bos (9-4-1)
2000: JaZieger, NY (8-6)
2001: NSurowiecki & ShWyman, Mon (11-3)


Teams that have won 10 or games in a season:

1994 Z-Force (12-3)
2001 Blazers (11-3)
1997 Black Sox (11-3)
1995 Z-Force (11-3)
1992 Miracles (11-4)
1992 Z-Force (11-4)
1993 Rockies (11-5)
1996 Black Sox (10-4)
2000 Conquistadors (10-4)
2001 Thunder (10-4)
1996 Thunder (10-4)
1993 Blazers (10-6)
1993 Z-Force (10-6)

Teams that have lost more than 10 games in a season

1993 Miracles (1-15)
1998 Black Sox (0-13-1)
1995 Predators (3-10-1)
2001 Conquistadors (4-10)
1997 Challengers (4-10)
1993 Winners (6-10)

Top 10 Individual Scoring Totals, Season

182- Steve Young, Col. 1994
174- Steve Young, Mid. 1998
152- Brett Favre, Bos. 1996
144- Daunte Culpepper, Pho. 2000
144- Dan Marino, NY. 1994
138- Terrell Davis, Pho. 1998
138- Emmitt Smith, NY. 1995
138- Jeff Garcia, Bos. 2001
130- Brett Favre, Bos. 1995
130- Peyton Manning, NY. 2000
130- Olindo Mare, Atl. 1999

Top Season PPG, Team

44.1- Z-Force, 1995
42.9- Z-Force, 1994
40.8- Z-Force, 2000
39.9- Z-Force, 1998
39.7- Z-Force, 2001
39.6- Thunder, 1999
39.3- Twins, 1998
38.8- Thunder, 1996
38.4- Predators, 1998
37.6- Conquistadors, 1998

Most Team Points Scored, Game

86- Z-Force vs. Blazers Wk 13/98
86- Miracles vs. Thunder Wk 2/92
85- Twins vs. Challengers Wk 13/98
75- Conquistadors vs. Blazers Wk 11/99
75- Z-Force vs. Predators Wk 13/95
75- Predators vs. Miracles Wk 12/95
72- Z-Force vs. Crips Wk 2/00
72- Thunder vs. Blazers Wk 10/96
72- Z-Force vs. Challengers Wk 1/95
71- Z-Force vs. Rockies Wk 5/94
71- Z-Force vs. Challengers Wk 5/01

Top Season PA avg. per game, Team

22.4- Z-Force, 1993
22.9- Conquistadors, 1996
24.3- Thunder, 1993
24.4- Black Sox, 1997
24.6- Miracles, 1992
24.6- Blazers, 1993
24.9- Thunder, 2000
25.4- Black Sox, 1996
25.4- Blockers, 2000
25.6- Blockers, 2001

Least Team Points Scored, Game

0- Rockies vs. Thunder Playoffs, 1993
0- Winners vs. Z-Force Wk 2/93
1- Thunder vs. Z-Force Wk 3/93
1- Z-Force vs. Twins Wk 12/93
2- Crips vs. Conquistadors Wk 6/96
3- Crips vs. Blazers Wk 6/97
9 teams tied with 4 pts

Most Individual Points Scored, Game

38- Randy Moss, Mid. Wk 13/98
34- Ra.Cunningham, Pho. Wk 13/98
32- Dan Marino, NY Wk 1/94
30- Randy Moss, Mid. Wk 5/00
30- Terrell Davis, Pho. Wk 2/98
30- Kordell Stewart, Pho. Wk 6/97
30- Barry Sanders, Chi. Wk 7/97
30- Emmitt Smith, NY Wk 1/95
30- Irving Fryar, NE Wk 1/94
30- Jerry Rice, Chi. Wk 11/93

FFL All-Pro Team History

1992

QB: Jim Kelly (Mid), Randall Cunningham (Mia)
RB: Emmitt Smith (NY), Terry Allen (Bos), Rodney Hampton (Chi), Herschel Walker (NE)
WR: Sterling Sharpe (NY), Michael Haynes (Mia), Andre Rison (Mid), Jerry Rice (Chi)
TE: Keith Jackson (Chi), Jay Novacek (Col)
K: Steve Christie (Mia), Morten Andersen (NY)
ST/D: Kansas City (Mon), Washington (Mia)

1993

QB: Steve Young (Col), Jim Kelly (Mid)
RB: Ricky Watters (Mid), Barry Foster (Col), Emmitt Smith (NY), Rodney Hampton (Chi)
WR: Jerry Rice (Chi), Andre Rison (Mid), Sterling Sharpe (NY), Calvin Williams (NE)
TE: Shannon Sharpe (Bos), Johnny Mitchell (Col)
K: Al Del Greco (Chi), Jeff Jaeger (Col)
ST/D: Houston (Mon), Washington (Col)

1994

QB: Steve Young (Col), Dan Marino (NY)
RB: Emmitt Smith (NY), Chris Warren (Col), Natrone Means (NE), Marshall Faulk (NY)
WR: Jerry Rice (Chi-NE), Sterling Sharpe (NY), Herman Moore (Mia), Andre Rison (Mid)
TE: Brent Jones (NE), Keith Jackson (Mia)
K: Jason Elam (Chi), Doug Brien (Col)
ST/D: Cleveland (Bos), Minnesota (Chi)

1995

QB: Brett Favre (Bos), Jeff Blake (Mia)
RB: Emmitt Smith (NY), Marshall Faulk (NY), Curtis Martin (Cha), Barry Sanders (Chi)
WR: Carl Pickens (Col), Anthony Miller (NY), Jerry Rice (Cha), Cris Carter (Mia)
TE: Mark Chmura (Mia), Jay Novacek (Atl)
K: Jason Elam (Chi), Morten Andersen (NY)
ST/D: San Francisco (Mon), Oakland (Mid)

1996

QB: Brett Favre (Bos), John Elway (Cha)
RB: Curtis Martin (Cha), Emmitt Smith (NY), Terry Allen (Bos), Terrell Davis (Pho)
WR: Tony Martin (Mon), Carl Pickens (Col), Herman Moore (Mia), Tim Brown (Mon)
TE: Shannon Sharpe (Chi), Ben Coates (Cha)
K: John Kasay (Mid), Chris Boniol (Cha)
ST/D: Pittsburgh (Mid), Philadelphia (Mon)

1997

QB: Brett Favre (Bos), John Elway (Mon)
RB: Barry Sanders (Chi), Terrell Davis (Pho), Dorsey Levens (Col), Jerome Bettis (Bos)
WR: Joey Galloway (Atl), Antonio Freeman (NY), Terrell Owens (NY), Cris Carter (Mia)
TE: Mark Chmura (Bos), Ben Coates (Cha)
K: Mike Hollis (NY), Jason Elam (Chi)
ST/D: Dallas (Atl), San Francisco (Mid)

1998

QB: Steve Young (Mid), Brett Favre (Bos)
RB: Terrell Davis (Pho), Fred Taylor (Atl), Jamal Anderson (Mia), Garrison Hearst (Pho)
WR: Randy Moss (Mid), Antonio Freeman (NY), Joey Galloway (Atl), Keyshawn Johnson (Col)
TE: Shannon Sharpe (Mon), Ben Coates (Atl)
K: Al Del Greco (Cha), Jason Elam (Chi)
ST/D: Seattle (Atl), Green Bay (Bos)

1999

QB: Kurt Warner (Atl), Peyton Manning (Atl/Pho/NY)
RB: Stephen Davis (Bos), Eddie George (Mon), Edgerrin James (Pho), Emmitt Smith (NY)
WR: Marvin Harrison (Mon), Cris Carter (Mia), Isaac Bruce (Mid), Randy Moss (Mid)
TE: Wesley Walls (Bos), Tony Gonzalez (Cha)
K: Olindo Mare (Atl), Mike Hollis (Mon)
ST/D: Jacksonville (Pho), St. Louis (Bos)

2000

QB: Daunte Culpepper (Pho), Peyton Manning (NY)
RB: Marshall Faulk (NY), Edgerrin James (Pho), Stephen Davis (Bos), James Stewart (Wai)
WR: Marvin Harrison (Mon), Terrell Owens (NY), Randy Moss (Mid), Isaac Bruce (Atl)
TE: Tony Gonzalez (Cha), Shannon Sharpe (Col/Pho/Wai)
K: Martin Gramatica (Col), Matt Stover (Mia)
ST/D: Tampa Bay (Chi), Denver (Pho)


Coach K's 2002 Draftwatch

Here is who I see as the most probable 2002 keepers, barring trades and injuries in the offseason.

Boston: JGarcia, AGreen, DBoston
Charleston: JRice, TGonzalez, RDayne (will likely trade)
Middletown: DMcNabb, RMoss, TDavis
New York: PManning, MFaulk, TOwens

Atlanta: KWarner, RWilliams, IBruce
Chicago: DCulpepper, MAlstott,EMcCaffrey (will likely trade)
Kansas City: ABrooks, TiBrown, JThrash
Miami: BFavre, CMartin, SAlexander

Colorado: DStaley, GHearst, THolt (may trade)
Montana: BGriese, MHarrison, PHolmes
Phoenix: EJames, JLewis, MVick (may trade)
Waikiki: SMcNair, JStewart, DMason (may trade)

Coach K's Bits:

Fantasy Bowl Appearances:
Z-Force, 6 (1992-1994, 1997-98, 2000)
Conquistadors, 3 (1997-1999)
Thunder, 2 (1993, 2001)
Challengers, 2 (1995-96)
Blazers, 1 (2001)
Blockers, 1 (2000)
Predators, 1 (1999)
Black Sox, 1 (1996)
Rockies/Crips, 1 (1995)
Twins/Syndromes, 1 (1994)
Miracles, 1 (1992)
Tsunamis, 0

Longest Fantasy Bowl Draught
Miracles (last FB 1992)

Longest Playoff Draught
Black Sox, 4 yrs (1998-01)
(ties record held by Atl 95-98 and Cha 97-00.)

Most Consecutive Fantasy Bowls
Z-Force, 3 (1992-94)
Conquistadors, 3 (1997-99)

Most Consecutive Playoff Years
Thunder, 7 (1995-2001)